The meta is starting to form for competitive play, but still, different weapons and attachments are being trialed. The main SMG that is being used in the practice series right now is the Rival-9. It is very hard to run more than one SMG on certain maps but still serviceable in the right hands. The second SMG that has been used at times is the Striker 9. This weapon has been rarely used but is still seen in use by EriKBooM and Vivid at times. With more reps in respawns, it'll be interesting to watch the usage rates of both the SMGs in the meta currently.
The AR meta is far more cemented currently in Modern Warfare 3. Players are mostly using the MCW as the main AR but also using the MTZ 556 as a flex gun. Going back to Black Ops 4, that competitive season saw a Main AR, Flex AR, and Main SMG meta be formed and fans have yearned for that to return. With the current weapons, this may be the closest we've come to getting back a 3-gun meta.
Below are 15 weapon classes that professional players have been using during Week 1 of Modern Warfare 3. Each uses different attachments to get the most out of the weapon in differing situations. Give them all a try and let us know which weapon classes you like the best!
RIVAL-9
aBeZy
Muzzle: Purifier Muzzle Brake S
Barrel: Rival-C Clearshot Barrel
Underbarrel: DR-6 Handstop
Rear Grip: Rival Vice Assault Grip
Stock: MTZ Marauder Stock
Date Captured on: 11/14/23
Camo on the graphic: Zircon Scale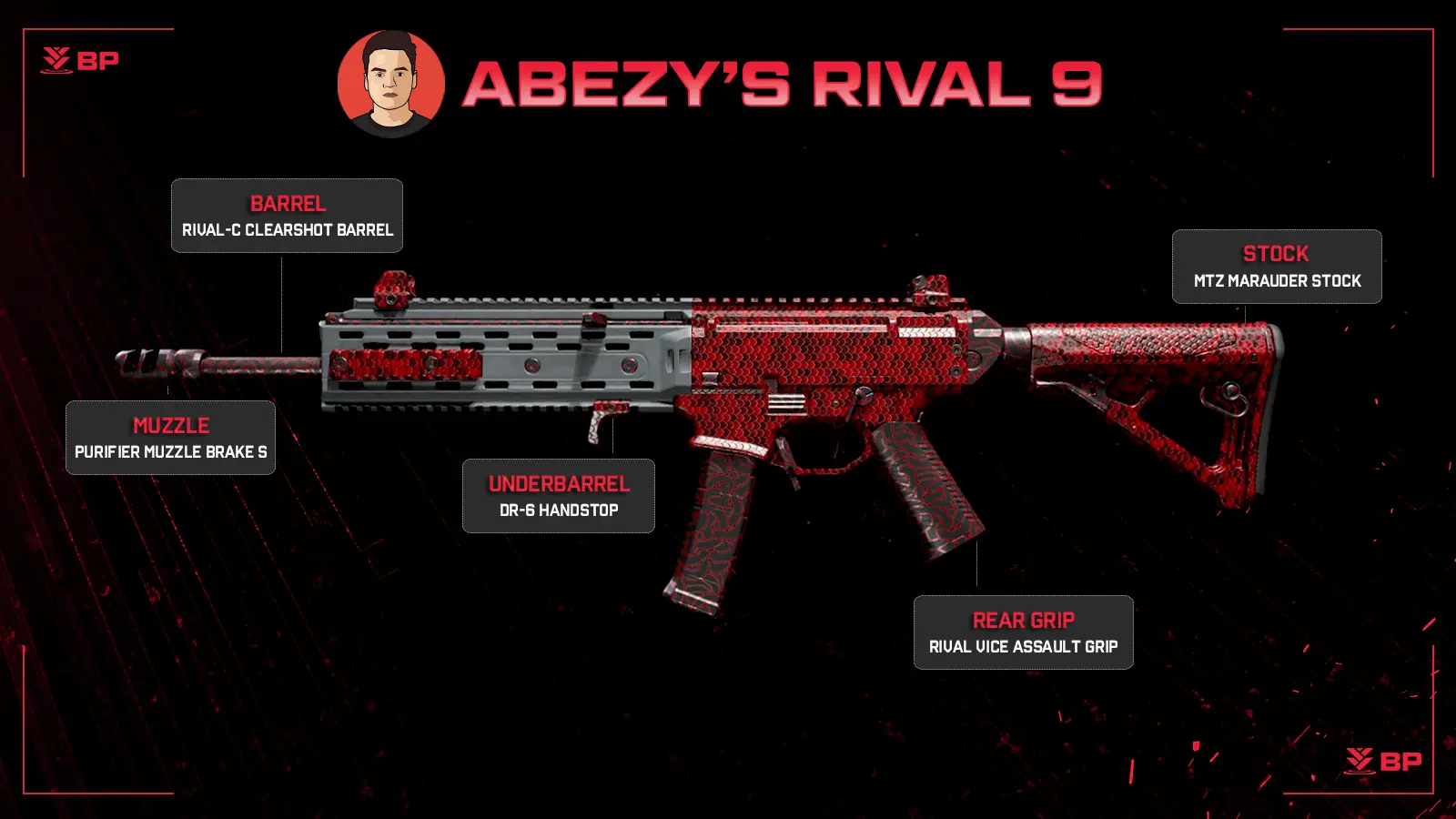 Afro
Muzzle: Purifier Muzzle Brake S
Barrel: Rival-C Clearshot Barrel
Underbarrel: XTEN Phantom-5 Handstop
Rear Grip: Rival Vice Assault Grip
Stock: Bruen Flash V4 Stock
Date Captured on: 11/11/23
Camo on the graphic: Borealis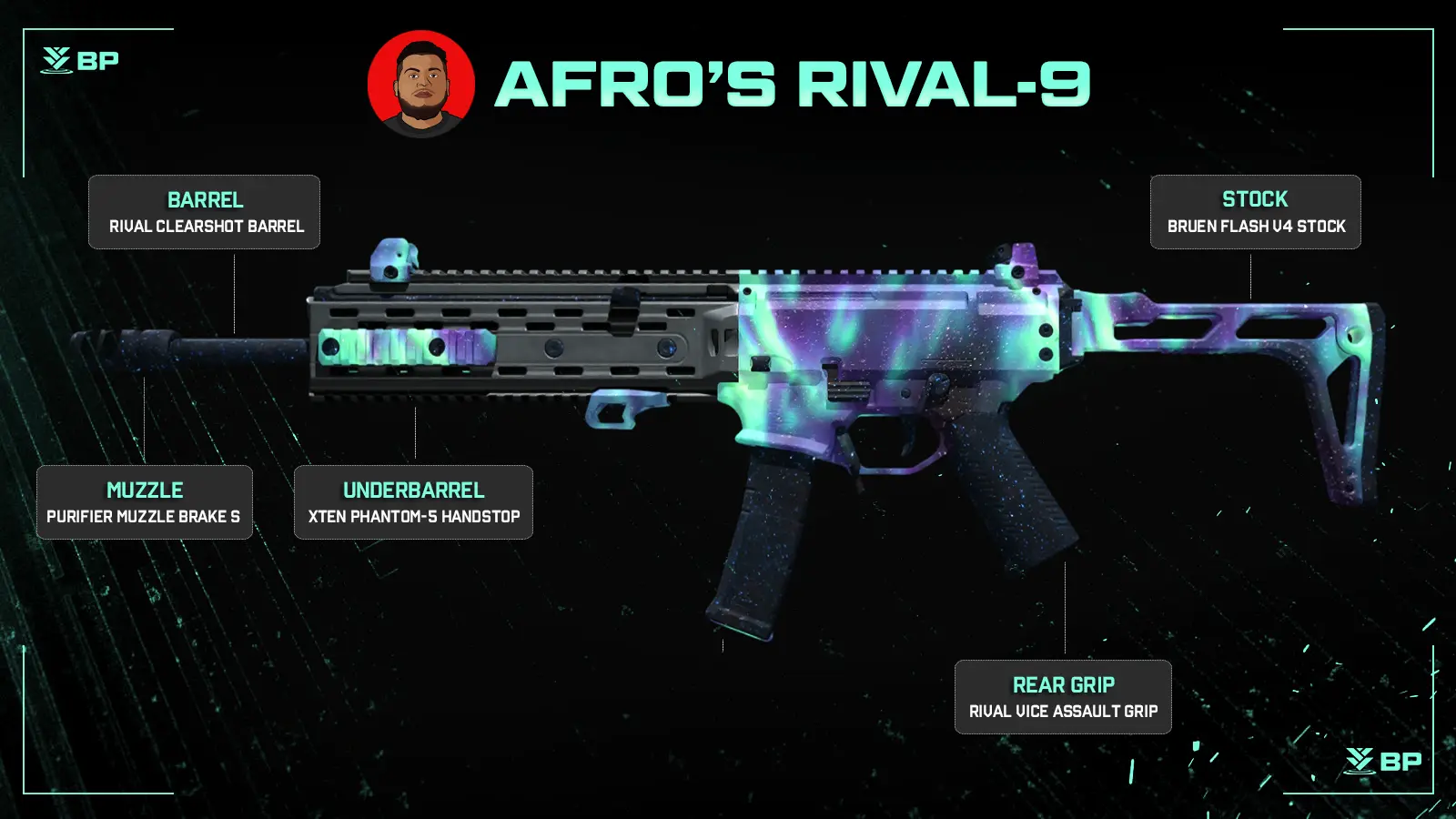 Pred
Muzzle: Purifier Muzzle Brake S
Underbarrel: DR-6 Handstop
Ammo: 9mm High Velocity
Rear Grip: Rival Vice Assault Grip
Stock: MTZ Marauder Stock
Date Captured on: 11/13/23
Camo on the graphic: Sidewinder's Camo: Mutated Flare (250 Kills in Zombies)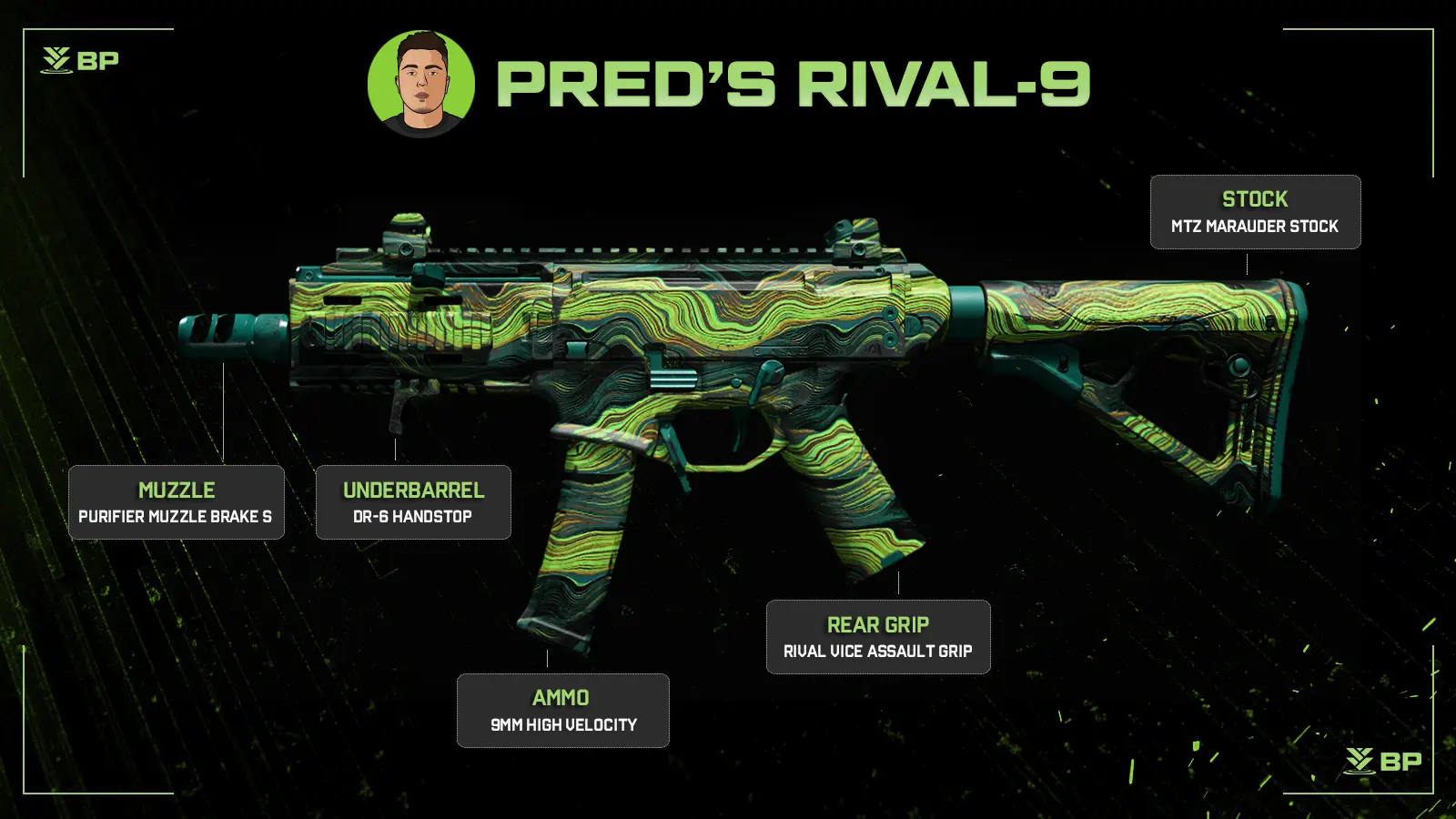 Shotzzy
Muzzle: Purifier Muzzle Brake S
Underbarrel: Bruen Pivot Vertical Grip
Ammo: 9mm High Velocity
Rear Grip: Rival Vice Assault Grip
Stock: MTZ Marauder Stock
Date Captured on: 11/12/23
Camo on the graphic: Priceless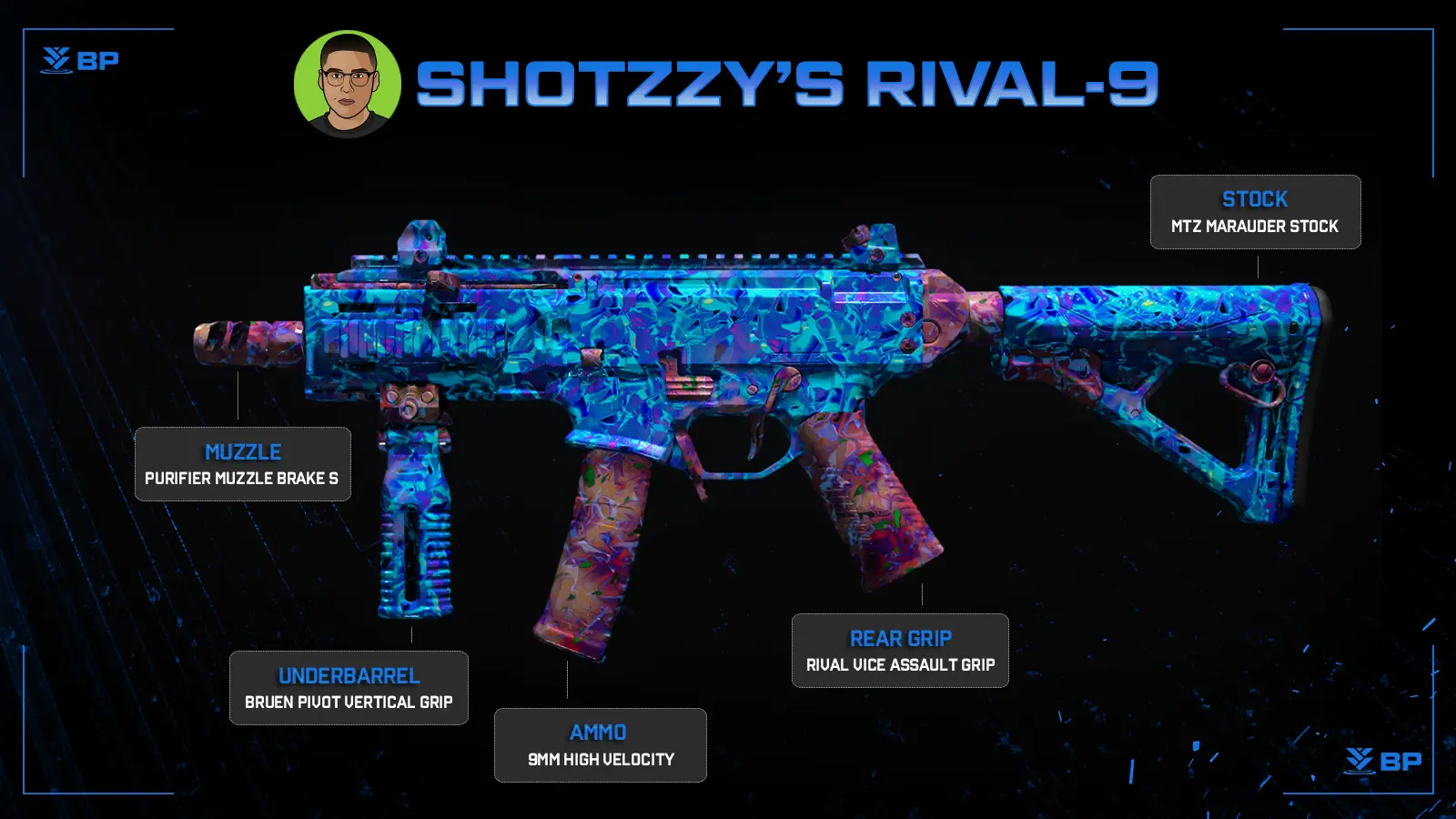 STRIKER-9
EriKBooM
Muzzle: L4R Flash Hider
Barrel: Striker Elite Long Barrel
Underbarrel: XTEN Phantom-5 Handstop
Rear Grip: Saking ZX Grip
Stock: Lachmann MK2 Light Stock
Date Captured on: 11/10/23
Camo on the graphic: Pulemyot 762's Camo - Sunset Retro (10 Kills with full attachments)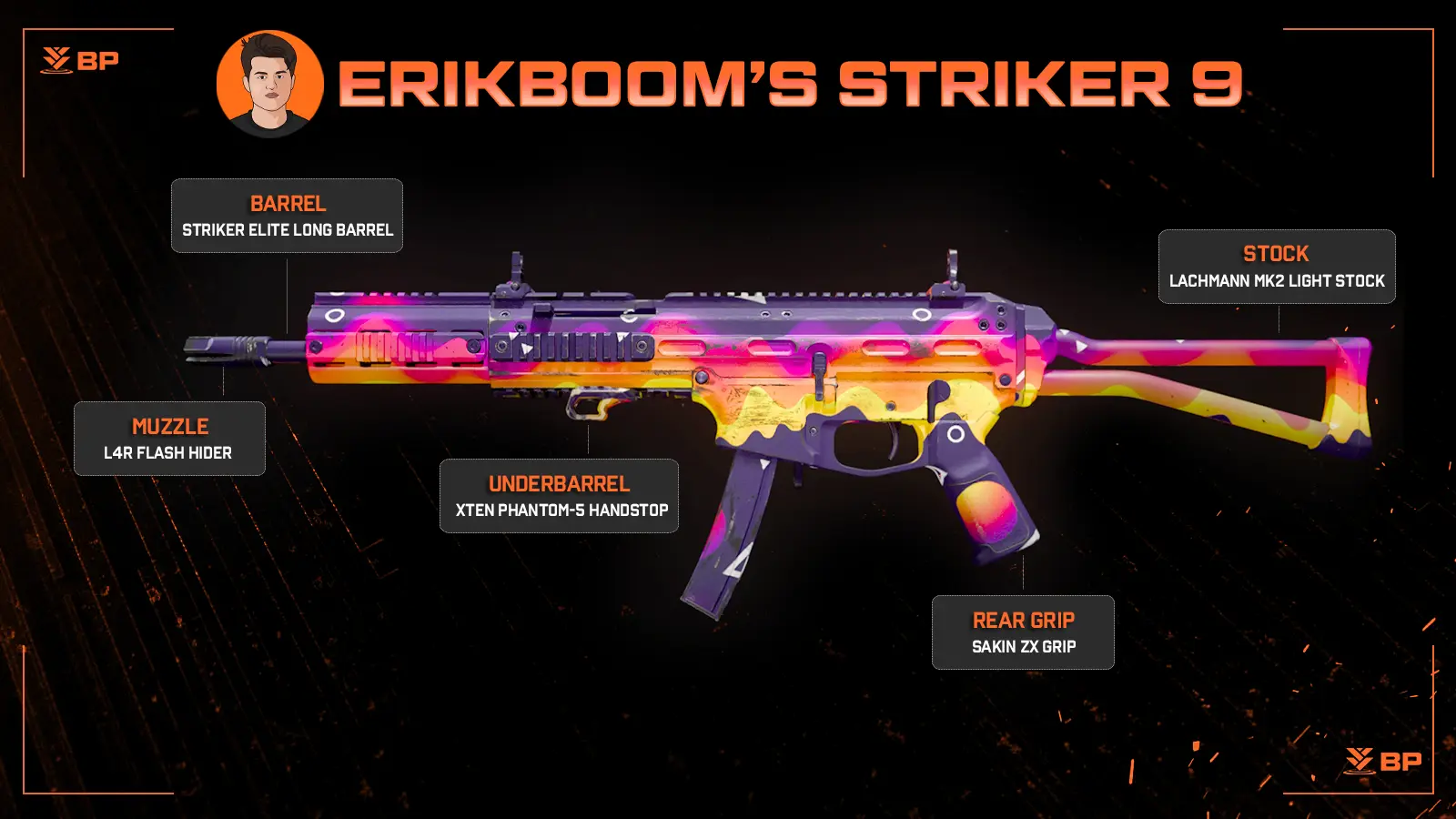 Vivid
Muzzle: Bruen Pendulum
Barrel: Striker Recon Long Barrel
Underbarrel: XTEN Phantom-5 Handstop
Rear Grip: Saking ZX Grip
Stock: RB Crotalus Assault Stock
Date Captured on: 11/13/23
Camo on the graphic: Borealis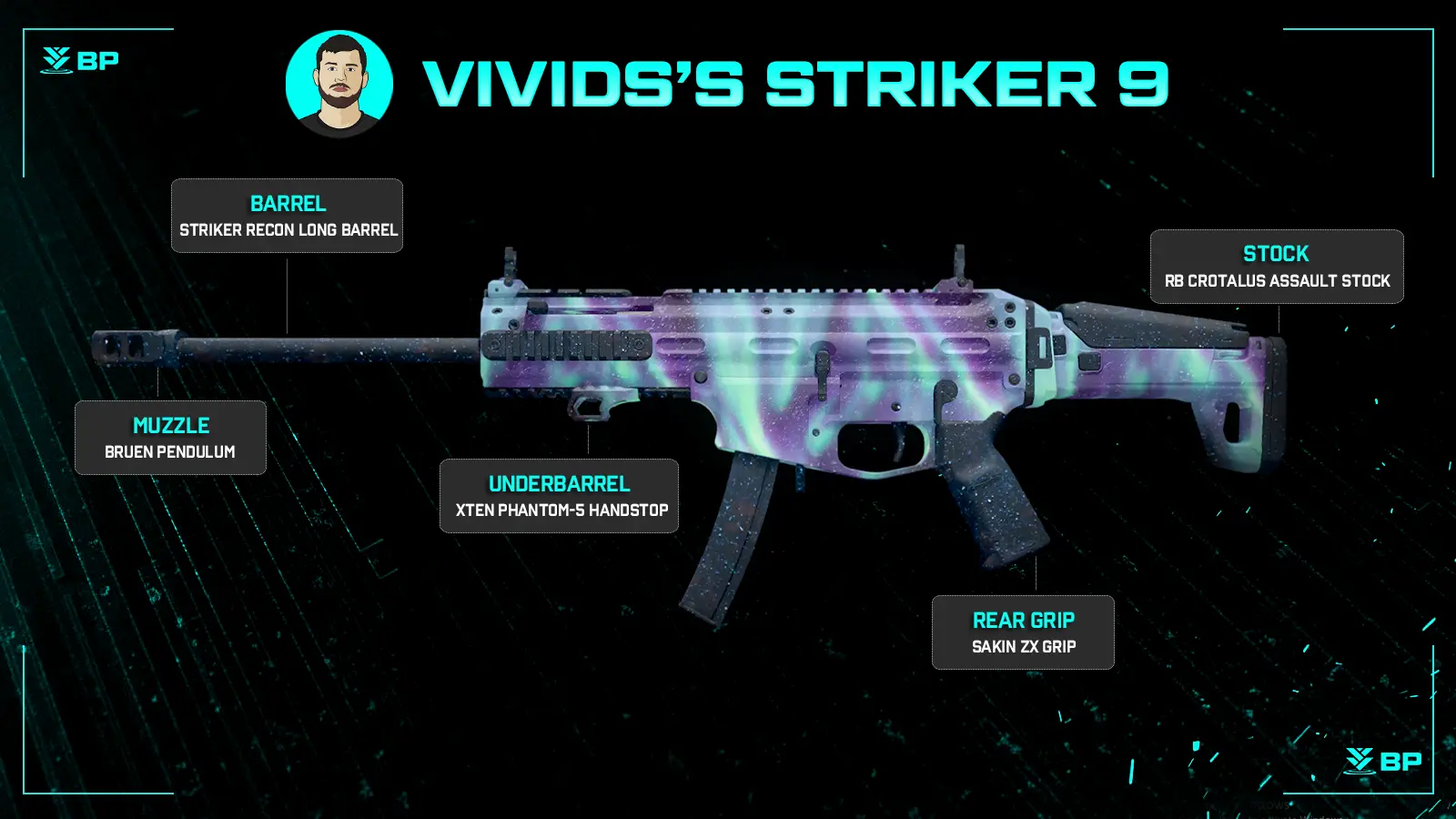 MCW
Cellium
Muzzle: T51R Billeted Brake
Barrel: 16.5'' MCW Cyclone Long Barrel
Sight: Slate Reflector
Rear Grip: RB Claw-PSL Grip
Stock: RB Regal Heavy Stock
Date Captured on: 11/13/23
Camo on the graphic: Zircon Scale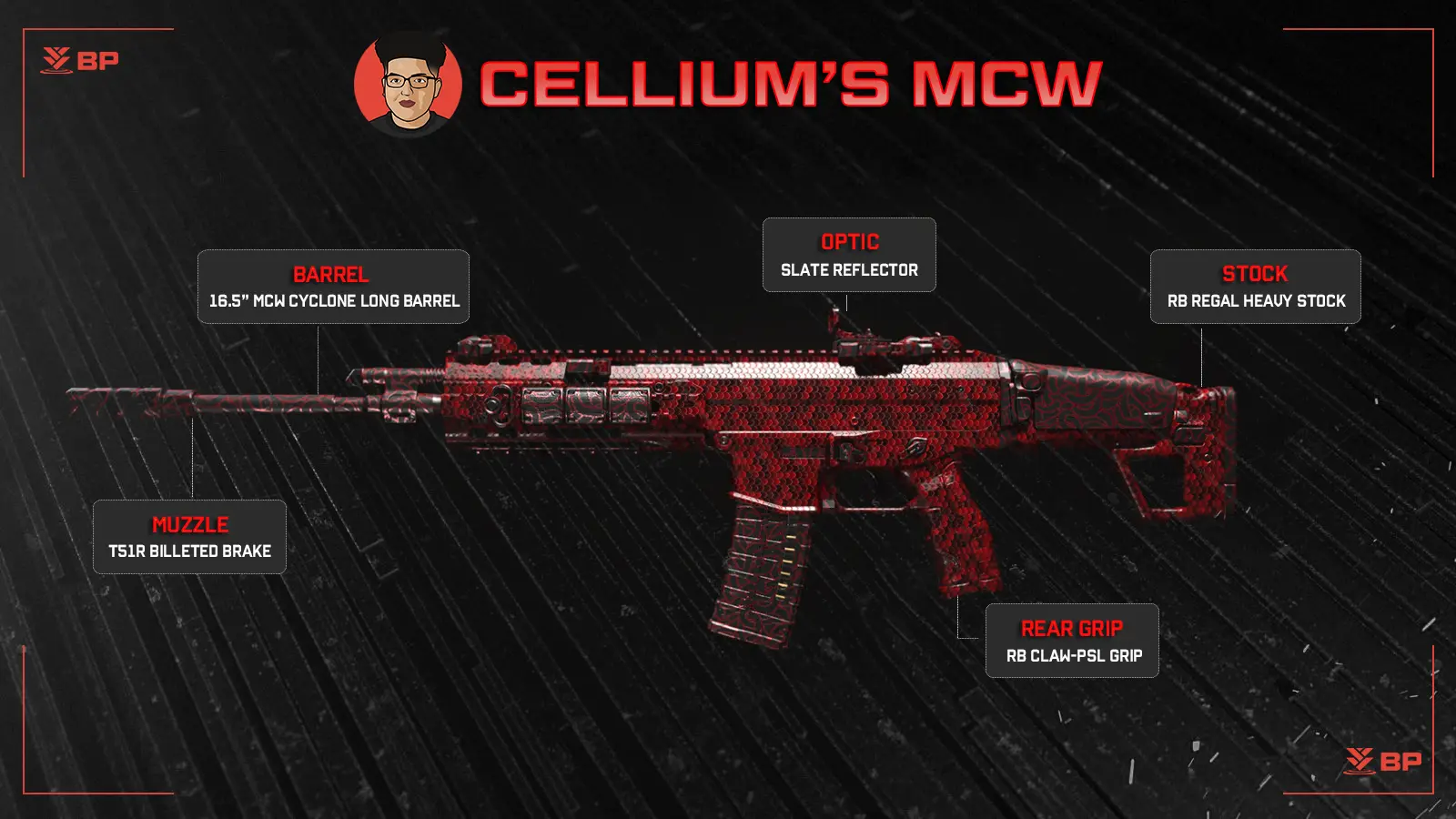 Clayster
Muzzle: T51R Billeted Brake
Barrel: Line Mammoth Heavy Barrel
Sight: Slate Reflector
Rear Grip: RB Claw-PSL Grip
Stock: RB Regal Heavy Stock
Date Captured on: 11/12/23
Camo on the graphic: Serpentinite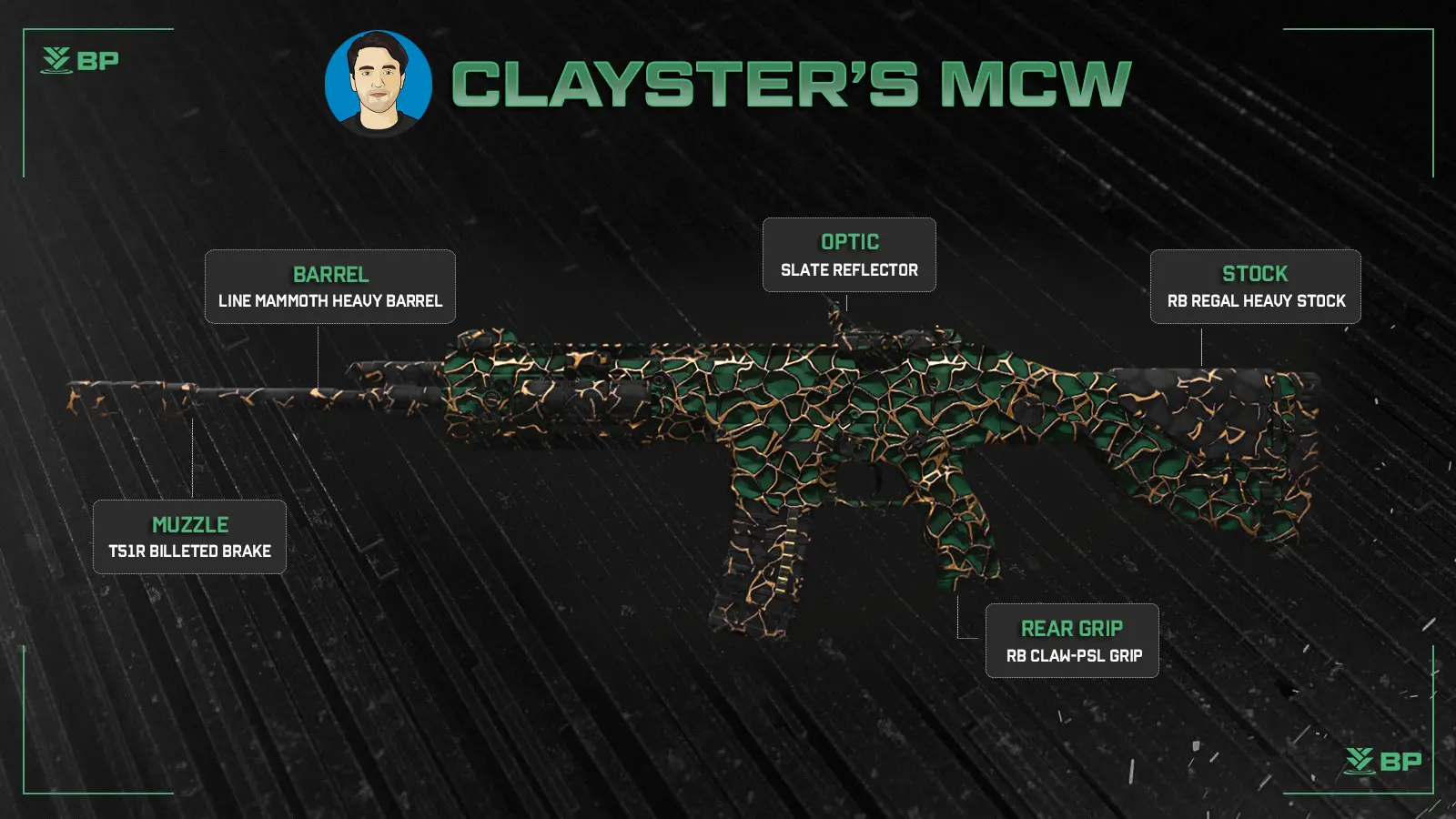 Dashy
Muzzle: Casus Brake
Barrel: 16.5'' MCW Cyclone Long Barrel
Sight: MK.3 Reflector
Underbarrel: FSS Sharkfin 90
Ammo: 5.56 High Velocity
Date Captured on: 11/12/23
Camo on the graphic: Gilded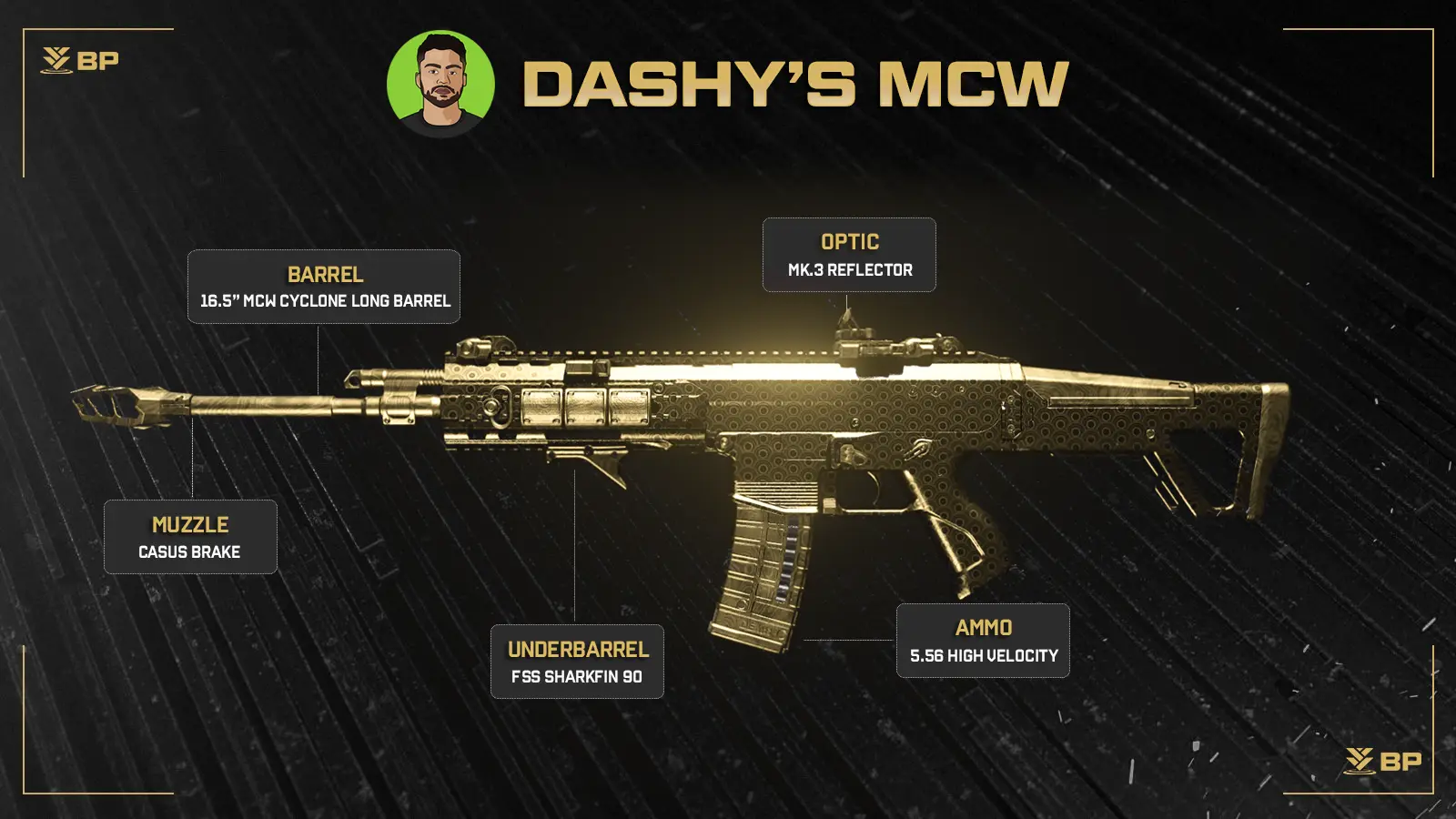 Dashy
Muzzle: ELR Blackfire Compensator
Barrel: Line Mammoth Heavy Barrel
Ammo: 5.56 High Velocity
Rear Grip: RB Claw-PSL Grip
Underbarrel: RB Precision Heavy Stock
Date Captured on: 11/13/23
Camo on the graphic: Golden Enigma
Kenny
Barrel: Line Mammoth Heavy Barrel
Under Barrel: XTEN Phantom-5 Handstop
Ammo: 5.56 High Velocity
Sight: Slate Reflector
Rear Grip: RB Claw-PSL Grip
Date Captured on: 11/12/23
Camo on the graphic: Forged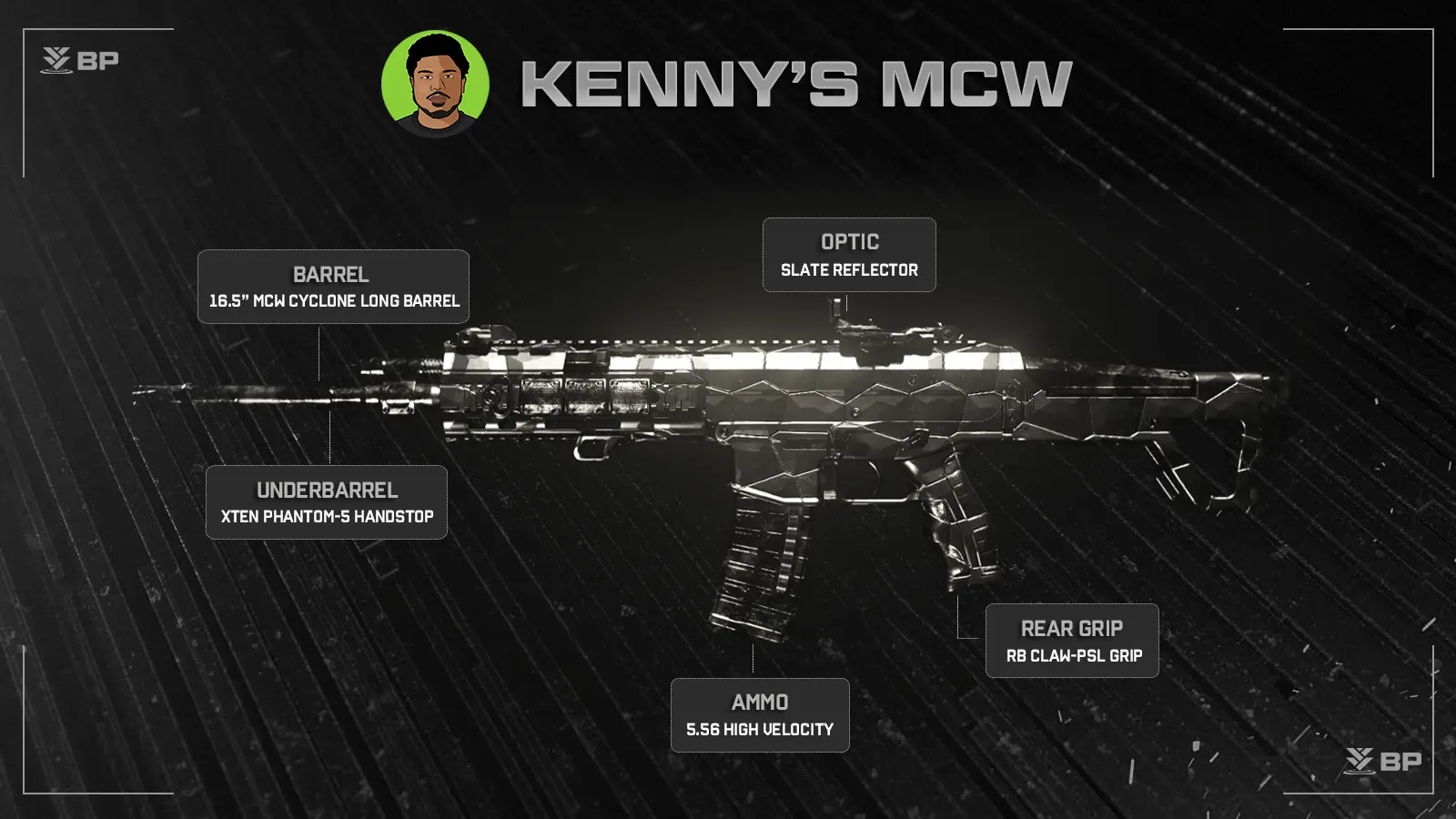 Scrappy
Muzzle: L4R Flash Hider
Barrel: Line Mammoth Heavy Barrel
Ammo: 5.56 NATO High Grain Rounds
Sight: Slate Reflector
Stock: RB Regal Heavy Stock
Date Captured on: 11/13/23
Camo on the graphic: Priceless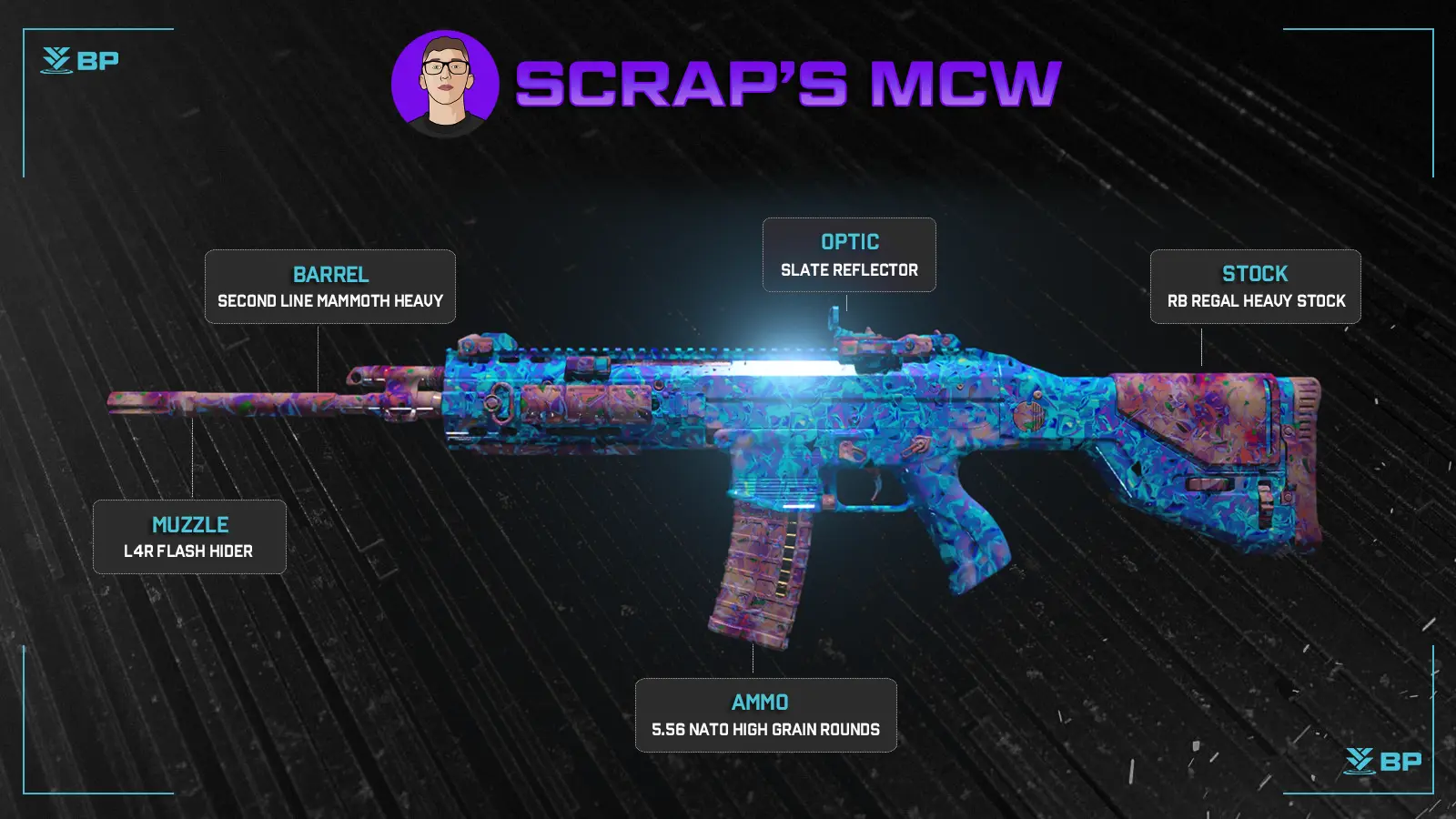 MTZ 556
aBeZy
Muzzle: T4LR Saber Compensator
Barrel: MTZ Clinch Pro Barrel
Sight: Slate Reflector
Rear Grip: Rival Ace Grip
Stock: MTZ Marauder Stock
Date Captured on: 11/14/23
Camo on the graphic: Kastov 762's Camo - Red Tiger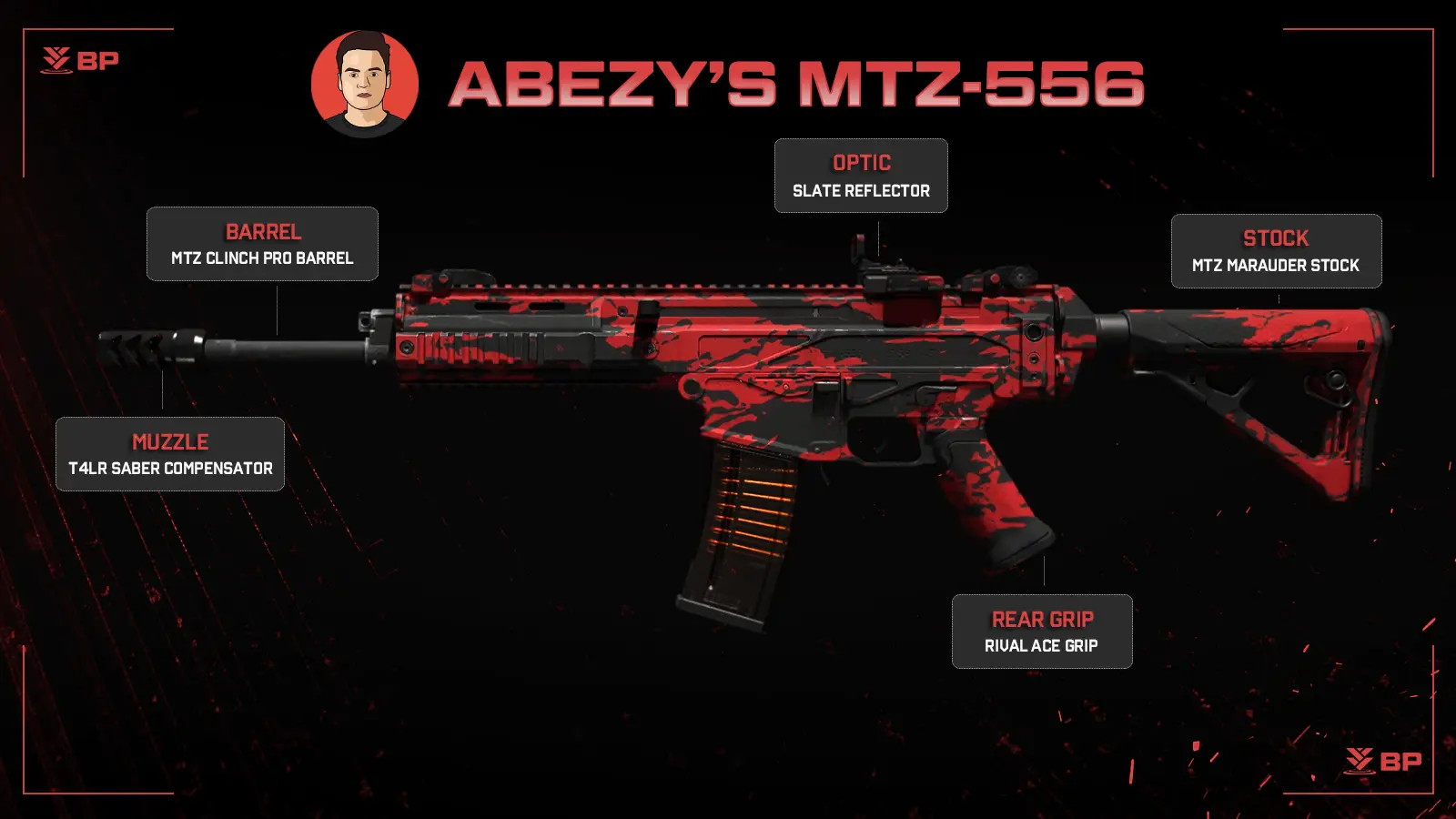 Attach
Muzzle: Purifier Muzzle Brake
Barrel: MTZ Clinch Pro Barrel
Underbarrel: FTAC SP-10 Angled Grip
Rear Grip: Bruen TR-24 Assault Grip
Stock: MTZ Marauder Stock
Date Captured on: 11/13/23
Camo on the graphic: SVA 545's Camo - Monarch (25 Kills while in Tac Stance)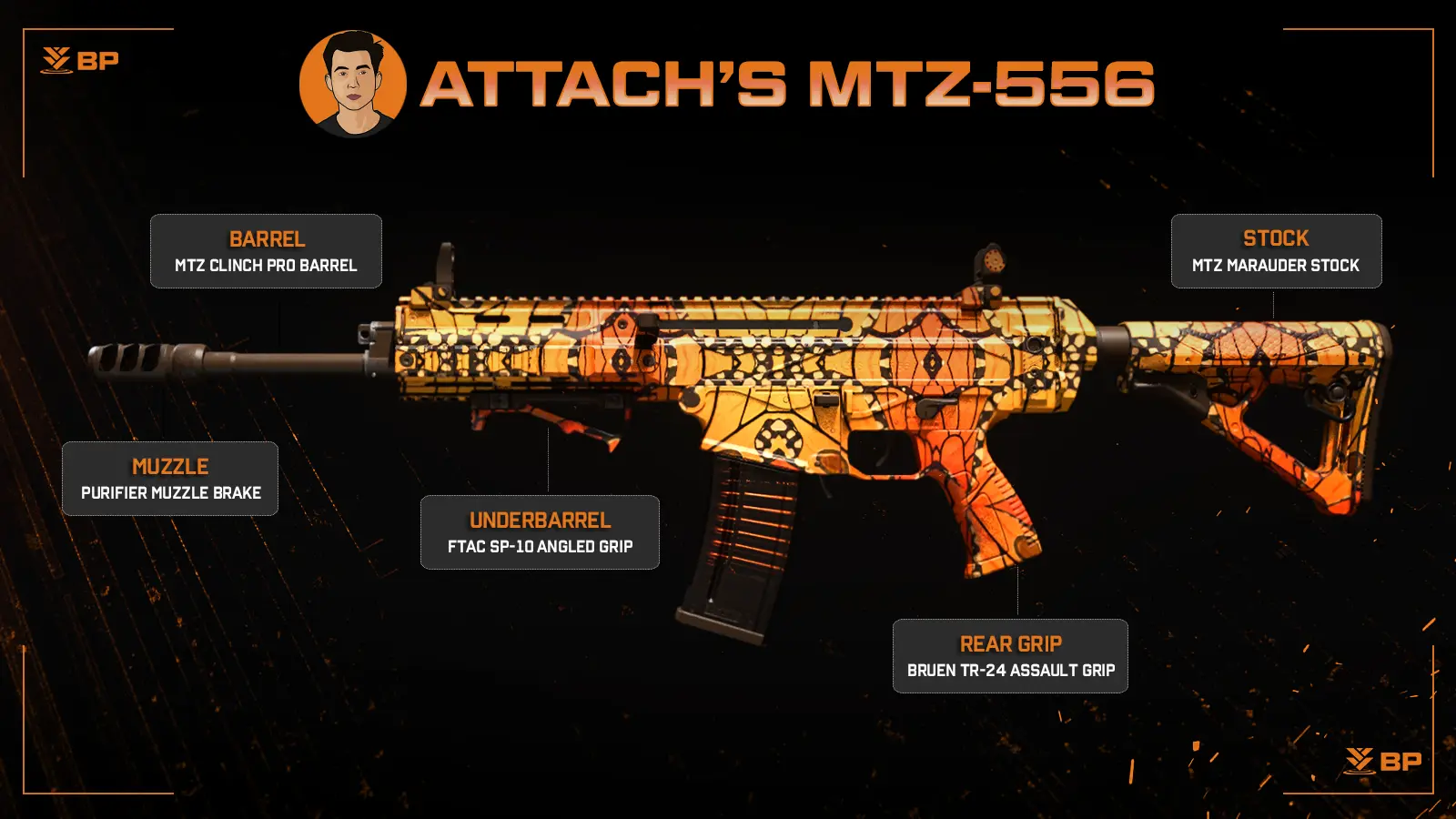 Simp
Barrel: MTZ Clinch Pro Barrel
Underbarrel: FTAC SP-10 Angled Grip
Sight: MK.3 Reflector
Rear Grip: Bruen TR-24 Assault Grip
Stock: MTZ Marauder Stock
Date Captured on: 11/13/23
Camo on the graphic: Interstellar