There are 12 mastery camos in Modern Warfare 3, each with its own challenges for players to complete based on multiplayer and zombies.
With the new title came 36 new unique weapons, but also all of the weapons from Modern Warfare 2 were carried over. While players can use the carried-over weapons to unlock four mastery camos in Zombies, there are no new mastery camos for multiplayer. Players can however still unlock the four multiplayer mastery camos from MW2 including Gold, Platinum, Polyatomic, and Onion.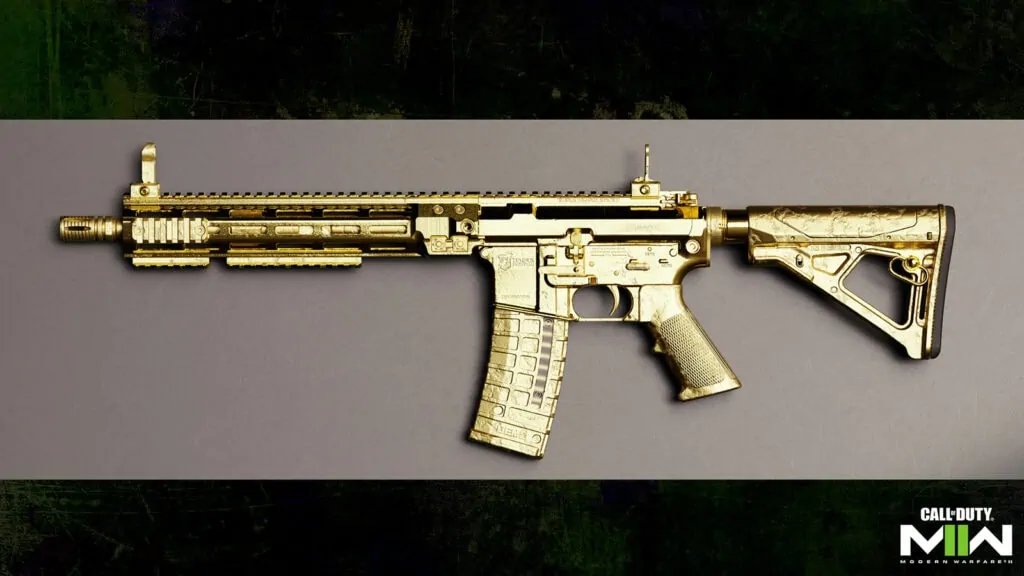 This is how to unlock the Gold Camo in Modern Warfare 3. To achieve this camo, players have to complete 4 challenges in multiplayer, level up the weapon to a certain amount, and complete one final challenge in the end per weapon. Below are the challenges and camos you'll receive on the way to getting Gold for each weapon carrying over to Modern Warfare 3.
Assault Rifles
TAQ-56
Hidden Snake - 50 Kills
Icepick - 10 Double Kills
Stonewall Digital - 50 Kills while ADS
Back in Blue - 15 Hipfire Kills
Level up weapon to 19
Gold Challenge: 3 Kills without dying 10 times
M4
Scales - 50 Kills
Desert Hybrid - 50 Kills while ADS
Dark Leaves - 10 Double Kills
New Urban - 15 Kills from behind
Level up weapon to 19
Gold Challenge: 3 Kills without dying 10 times
STB 556
Sponge Tac - 50 Kills
Black Top - 20 Kills while mounted
Slate- 10 Double Kills
Neon Pink - 30 Kills while crouched
Level up weapon to 20
Gold Challenge: 3 Kills without dying 10 times
Kastov 762
Urban Foliage - 50 Kills
Rip n' Tear- 20 Kills while mounted
Forest Ice - 50 Kills while ADS
Red Tiger - 15 Kills from behind
Level up weapon to 20
Gold Challenge: 3 Kills without dying 10 times
M13B
Tarnished - 50 Kills
Field Ops - 10 Double Kills
Projectile - 15 Point Blank Kills
Ice Cave - 15 Kills from behind
Level up weapon to 19
Gold Challenge: 3 Kills without dying 10 times
Chimera
Charcoal - 50 Kills
Aztec - 20 Hipfire Kills
Diabolical - 10 Double Kills
Snow Leopard - 15 Kills from behind
Level up weapon to 17
Gold Challenge: 3 Kills without dying 10 times
Iso Hemlock
Gaseous- 50 Kills
Cloud Hopper - 40 Kills while ADS
Lost Signal - 15 Kills from behind
Paths of Light - 40 kills while using a suppressor
Level up weapon to 26
Gold Challenge: 3 Kills without dying 10 times
Tempus Razorback
Snake Oil - 50 Kills
Dark Croc - 20 Kills while mounted
Alien Waves - 40 Kills while ADS
Sky Cover - 15 Double Kills
Level up weapon to 21
Gold Challenge: 3 Kills without dying 10 times
FR Avancer
Fibrous - 50 Kills
Scattered Lines - 20 Headshots
Bioluminescent - 30 Kills while crouched
Postmortem - 15 Double Kills
Level up weapon to 19
Gold Challenge: 3 Kills without dying 10 times
M13C
Cemented - 50 Kills
Poison Rivers - 20 Kills while crouched
Demise - 40 Kills while ADS
Virulent Strain - 15 Double Kills
Level up weapon to 10
Gold Challenge: 3 Kills without dying 10 times
TR-76 Geist
Velot - 50 Kills
Wild Funk - 10 Double Kills
Scratched Up - 50 Kills while ADS
Light Revisited - 50 Kills while using a Suppressor
Level up weapon to 22
Gold Challenge: 3 Kills without dying 10 times
Lachmann-556
Marshland - 50 Kills
Pine - 10 Double Kills
Dark Tiger Digital - 50 Kills while using a Suppressor
Cthulhu - 10 Hipfire Kills
Level up weapon to 19
Gold Challenge: 3 Kills without dying 10 times
M16
Modern Woodland - 50 Kills
Marsh Digital - 10 Double Kills
Dank Forest - 30 Kills while crouched
Intoxicate - 20 Kills while mounted
Level up weapon to 15
Gold Challenge: 3 Kills without dying 10 times
Kastov-74u
Ripple Effect - 50 Kills
Jungle Digital - 15 Point Blank Kills
Canary Stone - 10 Double Kills
Chemical Reaction - 30 Kills while crouched
Level up weapon to 20
Gold Challenge: 3 Kills without dying 10 times
Kastov 545
Snowdrift - 50 Kills
Mudslide - 10 Hipfire Kills
Savannah - 50 Kills while ADS
Petri Digital - 50 Kills while using a Suppressor
Level up weapon to 18
Gold Challenge: 3 Kills without dying 10 times
Battle Rifles
Lachmann-762
Day Mars - 50 Kills
Desert Oil Digital - 50 Kills while ADS
Stalking Cat - 20 Kills while mounted
Internal Flame - 10 Double Kills
Level up weapon to 18
Gold Challenge: 3 Kills without dying 10 times
Cronen Squall
Vapor Storm - 50 Kills
Ghastly Green - 15 Double Kills
Stone Ridge - 20 Kills from behind
Intergalactic - 40 Kills while mounted
Level up weapon to 25
Gold Challenge: 3 Kills without dying 10 times
FTAC Recon
Beached - 50 Kills
Torn Scales - 10 Double Kills
Stalking Cat - 50 Kills while using a Suppressor
Haunting - 30 Kills while crouched
Level up weapon to 22
Gold Challenge: 3 Kills without dying 10 times
TAQ-V
Dune Sea - 50 Kills
Faded Veil - 15 Point Blank Kills
Anaconda - 15 Kills from behind
Noxious Neon - 20 Kills while mounted
Level up weapon to 20
Gold Challenge: 3 Kills without dying 10 times
SQ-14
Dune Stalker - 50 Kills
Reptilian - 50 Kills while ADS
Heavy Commando - 10 Double Kills
Tendrils - 30 Kills while prone
Level up weapon to 21
Gold Challenge: 3 Kills without dying 10 times
Submachine Guns
Lachmann Shroud
Mud Snake - 40 Kills
Germinate- 20 Kills from behind
Acrid Drift - 25 Double Kills
Goodnight Vibes - 15 Kills while mounted
Level up weapon to 1
Gold Challenge: 3 Kills without dying 10 times
ISO 9mm
Digital Boulder- 50 Kills
Foundation - 20 Hipfire Kills
Snow Tiger - 10 Double Kills
Neon Peaks - 25 Point Blank Kills
Level up weapon to 12
Gold Challenge: 3 Kills without dying 10 times
PDSW 528
Shadow Stalker - 50 Kills
Gecko - 50 Kills while ADS
Shale - 15 Hipfire Kills
Pinkish - 10 Point Blank Kills
Level up weapon to 29
Gold Challenge: 3 Kills without dying 10 times
Vel 46
Arid Digital - 50 Kills
Midnight Bay - 50 Kills while ADS
Tagged - 15 Hipfire Kills
Whiteout - 10 Double Kills
Level up weapon to 28
Gold Challenge: 3 Kills without dying 10 times
Fennec 45
Motley - 50 Kills
Shadow Tiger - 30 Kills while crouched
Feral Beast - 15 Kills from behind
80s Fever - 10 Double Kills
Level up weapon to 26
Gold Challenge: 3 Kills without dying 10 times
BAS-P
Grass Snake - 50 Kills
Bark Digital - 15 Hipfire Kills
Urban Dusk - 15 Kills from behind
Dark Violet - 50 Kills while using a suppressor
Level up weapon to 16
Gold Challenge: 3 Kills without dying 10 times
Iso 45
Tunnels - 50 Kills
Ziggurat - 40 Kills while ADS
Dappled Shade - 30 Point Blank Kills
Prismatic - 20 Kills from behind
Level up weapon to 19
Gold Challenge: 3 Kills without dying 10 times
Lachmann Sub
Darkfall - 50 Kills
Arctic Digital - 10 Double Kills
Crime Scene - 50 Kills using a suppressor
Poison - 10 Hipfire Kills
Level up weapon to 18
Gold Challenge: 3 Kills without dying 10 times
FSS Hurricane
Green Woods - 50 Kills
Python - 50 Kills using a suppressor
Moon Shadow - 50 Kills while ADS
Neon Loud - 30 Kills while prone
Level up weapon to 14
Gold Challenge: 3 Kills without dying 10 times
MX9
Concrete Jungle - 50 Kills
Forest Digital - 10 Double Kills
Overgrown - 20 Kills while mounted
Rainbow Tiger - 30 Kills while crouched
Level up weapon to 16
Gold Challenge: 3 Kills without dying 10 times
MINIBAK
Timber - 50 Kills
Rattlesnake - 10 Double Kills
Green Digital - 50 Kills while ADS
Stoked Flame - 15 Point Blank Kills
Level up weapon to 14
Gold Challenge: 3 Kills without dying 10 times
Vaznev-9k
Snow Melt Digital - 50 Kills
Kill Brush - 50 Kills while ADS
Forest Rain - 10 Double Kills
Omnihex - 15 Hipfire Kills
Level up weapon to 13
Gold Challenge: 3 Kills without dying 10 times
Shotguns
Lockwood 300
Mosswood - 40 Kills
Jungle Cat - 40 Kills using a suppressor
Red Cell - 25 One Shot One Kills
Hunting Orange - 20 Kills while mounted
Level up weapon to 27
Gold Challenge: 3 Kills without dying 10 times
Expedite 12
Forest Shadow - 50 Kills
Tiger Stripes - 15 Hipfire Kills
Snowed In - 25 Kills while prone
Violent Orchid - 30 Kills while ADS
Level up weapon to 29
Gold Challenge: 3 Kills without dying 10 times
Bryson 800
Mud Bath - 40 Kills
Bamboo - 15 Hipfire Kills
Ground Cover - 10 Double Kills
Aqua - 20 One Shot One Kills
Level up weapon to 20
Gold Challenge: 3 Kills without dying 10 times
KV Broadside
Unplumbed - 50 Kills
Conflagration - 20 Point Blank Kills
Ethereal Rampage - 10 Double Kills
Riot's Nest - 20 One Shot One Kills
Level up weapon to 21
Gold Challenge: 3 Kills without dying 10 times
MX Guardian
Wet Sands - 50 Kills
Connected Dots - 20 Point Blank Kills
Red Smoke - 10 Double Kills
Green Edges - 20 Hipfire Kills
Level up weapon to 19
Gold Challenge: 3 Kills without dying 10 times
Bryson 890
Snowstorm Digital - 40 Kills
Stone Guard - 15 Point Blank Kills
Shedding - 10 Double Kills
Arctic Chill - 25 Kills while crouched
Level up weapon to 21
Gold Challenge: 3 Kills without dying 10 times
Light Machine Guns
Sakin MG38
Commando Paint - 50 Kills
Necropolis - 30 Kills while prone
Fractal Mud - 10 Double Kills
Magma Digital - 50 kills while using a suppressor
Level up weapon to 19
Gold Challenge: 3 Kills without dying 10 times
RAAL MG
Rockey Desert - 50 Kills
Trailblazer - 15 Kills from behind
Night Terror - 20 Kills while mounted
Uncheckered - 10 Hipfire Kills
Level up weapon to 27
Gold Challenge: 3 Kills without dying 10 times
556 Icarus
Olive- 50 Kills
What Skulls? - 10 Double Kills
Night Quarry- 20 Kills while mounted
Autumn Dazzle - 30 Kills while crouched
Level up weapon to 15
Gold Challenge: 3 Kills without dying 10 times
RAPP H
Desert Snake - 50 Kills
Classic Digital - 10 Point Blank Kills
Quarry - 20 Kills while mounted
Blue Tiger - 50 Kills while ADS
Level up weapon to 18
Gold Challenge: 3 Kills without dying 10 times
HCR 56
Surface Tension - 50 Kills
Hexed - 50 Kills while ADS
Sunset - 10 Double Kills
Tessellation - 20 Kills while mounted
Level up weapon to 18
Gold Challenge: 3 Kills without dying 10 times
RPK
Dark Rainforest - 50 Kills
China Lake - 10 Double Kills
Asphalt - 50 Kills while using a suppressor
Rupture - 20 Kills while mounted
Level up weapon to 18
Gold Challenge: 3 Kills without dying 10 times
Marksman Rifles
EBR-14
Sandstorm Digital - 50 Kills
Moss - 30 Kills while crouched
Autumn Return - 20 Kills while mounted
Sunlit Croc - 10 Double Kills
Level up weapon to 14
Gold Challenge: 3 Kills without dying 10 times
SP-4 208
Dark Canopy - 50 Kills
Desert Digital - 50 Kills while ADS
Ferns - 30 Kills while prone
Crimson Streak - 20 Kills while mounted
Level up weapon to 14
Gold Challenge: 3 Kills without dying 10 times
Lockwood MK2
Sand Viper - 50 Kills
Desert Rain - 15 Kills from behind
Wild Zebra- 25 One Shot One Kills
Granite - 10 Point Blank Kills
Level up weapon to 28
Gold Challenge: 3 Kills without dying 10 times
Tempus Torrent
Speckled- 50 Kills
Oxysporum - 10 Double Kills
Dire Growth - 20 Kills while mounted
Sandfall - 40 Kills while using a suppressor
Level up weapon to 17
Gold Challenge: 3 Kills without dying 10 times
Crossbow
Deciduous - 50 Kills
H20 - 5 Double Kills
Unlit Showers - 15 Kills from behind
Rad N' Rancid - 20 Kills while prone
Level up weapon to 17
Gold Challenge: 3 Kills without dying 10 times
LM-S
Commando Digital- 50 Kills
Abominable - 50 Kills while ADS
Autumnal - 10 Double Kills
Coral Snake - 30 Kills while crouched
Level up weapon to 12
Gold Challenge: 3 Kills without dying 10 times
SA-B 50
Urban Digital - 50 Kills
Bullsnake - 25 One Shot One Kills
Toxicity - 10 Double Kills
Splintered Asphalt - 10 Kills while mounted
Level up weapon to 20
Gold Challenge: 3 Kills without dying 10 times
TAD-M
Dead Hive - 50 Kills
Forest Water - 20 Kills while mounted
Skin and Scales - 5 Hipfire Kills
Chemist Digital - 10 Double Kills
Level up weapon to 25
Gold Challenge: 3 Kills without dying 10 times
Sniper Rifles
MCPR-300
Clay - 50 Kills
Snow Grass - 2 Kills within 10 seconds 10 times
Neon Shards - 30 Kills while prone
Bloodied - 10 Hipfire Kills
Level up weapon to 26
Gold Challenge: 3 Kills without dying 10 times
Signal 50
Gladiator - 50 Kills
Unearthed - 2 Kills within 10 seconds 10 times
Earthbound - 30 Kills while prone
Spectrums - 25 One Shot One Kills
Level up weapon to 23
Gold Challenge: 3 Kills without dying 10 times
Victus XMR
Snowy Nights - 50 Kills
Burned Edges - 30 One Shot One Kills
Elevated Lines - 10 Double Kills
Coral Reef - 30 Kills while crouched
Level up weapon to 26
Gold Challenge: 3 Kills without dying 10 times
FJX Imperium
Arctic Growth - 50 Kills
Styx - 2 Kills within 10 seconds 10 times
Psychoactive - 40 Kills while focused
Bedlam - 40 One Shot One Kills
Level up weapon to 26
Gold Challenge: 3 Kills without dying 10 times
Carrack .300
Birch - 50 Kills
Cloud Static - 20 One Shot One Kills
Blood and Mud - 15 Kills while prone
Lumber Tactical - 20 Kills while focused
Level up weapon to 18
Gold Challenge: 3 Kills without dying 10 times
LA-B 330
Shark Net - 50 Kills
Dirt - 2 Kills within 10 seconds 10 times
Leafless - 25 One Shot One Kills
Teal Tiger - 50 Kills while using a suppressor
Level up weapon to 21
Gold Challenge: 3 Kills without dying 10 times
SP-X 80
Scratch - 50 Kills
Dry Field - 20 Kills while mounted
Aspen - 25 One Shot One Kills
Lichyard - 50 Kills while using a suppressor
Level up weapon to 18
Gold Challenge: 3 Kills without dying 10 times
Melee
Riot Shield
Urban Zebra - 50 Kills
Level up weapon to 14
Gold Challenge: 2 Kills without dying 10 times
Pistols
P890
Sand - 40 Kills
Muddied - 40 Kills using a suppressor
Blue Digital - 5 Double Kills
Pixel Coast - 10 Point Blank Kills
Level up weapon to 26
Gold Challenge: 3 Kills without dying 10 times
.50 GS
Blades - 40 Kills
Foliage - 5 Double Kills
Leopard - 15 Kills while mounted
8-Bit Statis - 40 Kills with akimbo
Level up weapon to 26
Gold Challenge: 3 Kills without dying 10 times
X12
Bio Static Digital - 30 Kills
Desert Wave - 25 Kills while ADS
Garter Snake - 10 Hipfire Kills
Azul - 40 Kills with Akimbo
Level up weapon to 19
Gold Challenge: 3 Kills without dying 10 times
Basilisk
Outcrop - 40 Kills
Countryside - 30 Kills while ADS
Navy - 10 Point Blank Kills
Chrysolite - 30 Kills with akimbo
Level up weapon to 28
Gold Challenge: 3 Kills without dying 10 times
FTAC Siege
Sandpaper - 40 Kills
Velvet Midnight - 15 Kills while ADS
Painted Pig - 30 Kills while using a suppressor
Fuzzy Spectrum - 20 Kills with Akimbo
Level up weapon to 25
Gold Challenge: 3 Kills without dying 10 times
GS Magna
Digital Wilds - 40 Kills
Rhyolitic - 10 Double Kills
Cracking Onyx - 10 Kills from behind
Rad Reverb - 40 Kills with akimbo
Level up weapon to 9
Gold Challenge: 3 Kills without dying 10 times
9mm Daemon
Deserted - 40 Kills
Hunter - 20 Point Blank Kills
Fractal Lapse - 15 Kills while crouched
Crosshatch - 30 Kills with Akimbo
Level up weapon to 21
Gold Challenge: 3 Kills without dying 10 times
X13 Auto
Void and Light - 40 Kills
Asphalt Digital - 10 Hipfire Kills
Dark Echo - 10 Double Kills
Party Time - 40 Kills with Akimbo
Level up weapon to 21
Gold Challenge: 3 Kills without dying 10 times
Launchers
Pila
Dead Leaves - 40 Kills
Level up weapon to 14
Gold Challenge: 2 Kills without dying 10 times
JOKR
Azure Fray - 40 Kills
Level up weapon to 14
Gold Challenge: 2 Kills without dying 10 times
RPG-7
Lichen Digital - 40 Kills
Level up weapon to 14
Gold Challenge: 2 Kills without dying 10 times
Strela-P
Deep Jungle - 40 Kills
Level up weapon to 14
Gold Challenge: 2 Kills without dying 10 times
Melee
Tonfa
Oxidation - 40 Kills
Level up weapon to 14
Gold Challenge: 2 Kills without dying 10 times
Combat Knife
Scarlet - 50 Kills
Level up weapon to 14
Gold Challenge: 2 Kills without dying 10 times
Dual Kodachis
Rush Hour - 50 Kills
Level up weapon to 14
Gold Challenge: 2 Kills without dying 10 times
Dual Kamas
Cyber Plateau - 50 Kills
Level up weapon to 14
Gold Challenge: 2 Kills without dying 10 times
Pickaxe
Zany Zebra - 40 Kills
Level up weapon to 14
Gold Challenge: 2 Kills without dying 10 times